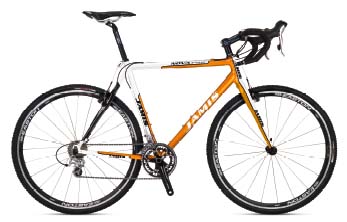 We want to thank wildland firefighter Rob Kephart for contributing his 2008 Jamis Nova Pro chassis to the Bicycle Across America -- Summer 2011 -- One Fire Station at a Time Tour.
We've designated this chassis as # 343 in honor of the firefighters who perished on September 11, 2001.
The build components are nearly 100% compiled. We like and use Shimano components on our bike builds. Chassis # 343 will be feature Shimano components as well.
Chassis # 343 will be used primarily in the western states. We will use it to climb the Sierra mountains from Sacramento to lake Tahoe.
Chassis # 343 will be used on several significant climbs on US Hwy 50 across Nevada and up Colorado's 11,000' Monarch Pass.
Stay tuned for more updates.